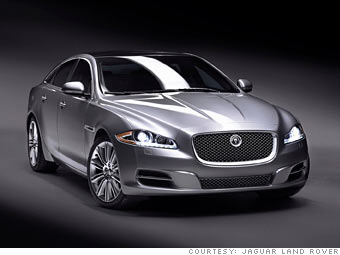 Jaguar unveiled a new, and very different-looking, XJ sedan in London Thursday.
The new full-size sedan signals a radical departure from Jaguar's past reliance on a stiflingly "classic" design. It's a new look for a brand that is struggling, under new ownership, to come back from a tattered image.
"Over the last 20 to 30 years, quite frankly, Jaguar lost its way," said Jaguar managing director Mike O'Driscoll in a telephone interview from London.
Last year, Ford Motor Co. sold Jaguar and Land Rover, which had become Jaguar's SUV alter ego, to Tata Motors of India.
With the XJ, O'Driscoll boasts, Jaguar has completely revamped its entire model line in less than two years, calling the cars "contemporary" and packed with "groundbreaking features."
Jaguar's make-over had already begun under Ford. Quality has been improved to the point that Jaguar, a famously undependable brand, topped a recent J.D. Power vehicle dependability survey.
The smaller Jaguar XF was also rolled out just before Tata's purchase. It's design foretold a lot of the new XJ's look, with its blunt nose and swept-back roofline.
But the XF also provided a cautionary note. Quality glitches plagued the first cars off the assembly line and sullied what should have been a triumphant comeback.
"We have had a small number of really irritating consumer problems with XF," O'Driscoll conceded. "We dealt with them quickly and we've moved on."
The first 2010 XJ's, slated to enter dealerships late this year, will be problem free, he promised.