OMG the in-laws are coming! If you missed it, see
Episode 4: See You at the Altar
and watch all of the OMG We Bought A House episodes
here
!
Joey's parents wanted to come visit and see our first house so we had to quickly get the guest room guest-ready! Watch the video above to see the entire transformation including how we spruced up a thrift store dresser (that we got for $60) in a matter of hours using a two-tone design, textured spray paint and rope handles.
Please comment and let us know what you think. Is it in-law ready? We still have a lot to do… including getting some actual curtains in the guest room. What should we do next?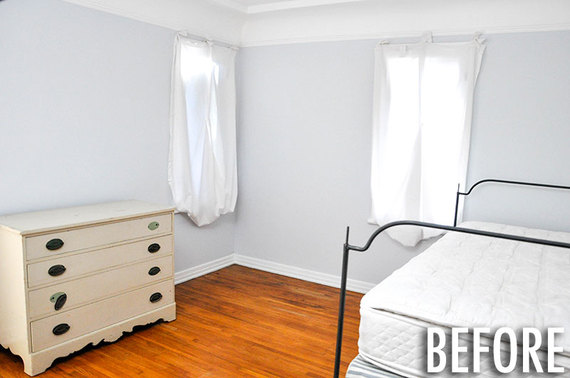 The original color of this room was an orange – see the old orange paint here We painted over it with a dusty blue color and the tray ceiling in pure white and put in our old queen size bed and a dresser we got at the thrift store.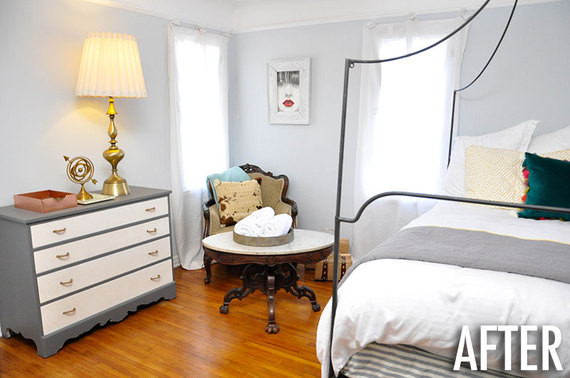 Ta da! I love the way the dresser turned out- the two tone is a perfect mix of masculine and feminine and the sand textured spray paint really covered the imperfections on the drawers. The canopy bed is a Campaign Canopy Bed. Now all we need is some blindes and a rug… always a work in progress but I think for now, it's cozy and welcoming for guests.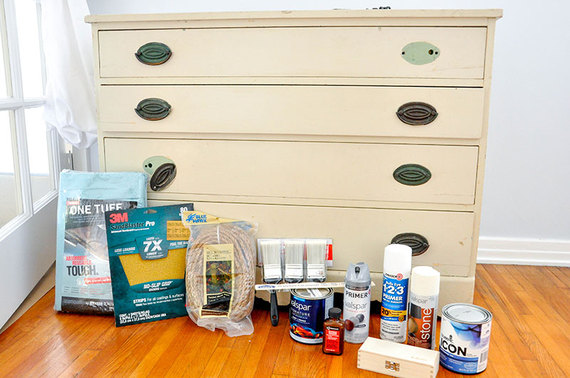 DIY Two Tone Textured Dresser with Rope Handles
Prep It:
an old dresser (we found ours at a thrift store)
natural rope – we used 3/8″ diameter
spray paint primer in white if you're going light or grey if you're going darker
x-acto knife or scissors to cut rope
contact cement (optional, to secure the rope knots)
gray paint (we used Valspar's Man Cave)
white textured spray paint
wood putty – optional if you need to fill in any holes from the previous drawer pulls
drill with a 1/2″ drill bit
DO IT!:
Remove old hardware and plug up any unneeded holes with wood putty, let dry and sand smooth.
Drill holes for rope handles – either drill the existing holes larger or create new ones. We used 3/8″ rope and drilled 1/2″ holes.
Sand down any super rough areas on surfaces you're not painting with the textured spray paint and white clean with a damp rag
Spray the body of the dresser with the gray primer, and the drawers with white primer.
Paint the body the color of your choice, and use the textured spray paint for the drawers. Let dry.
Cut lengths of rope for the handles – make sure to give yourself enough slack to tie two knots. Tie a knot on one end and feed the rope through the two holes, creating a loop in the front of the drawer and tie a second knot on the inside of the drawer. Trim the rope and you can use contact cement to secure the knot if needed.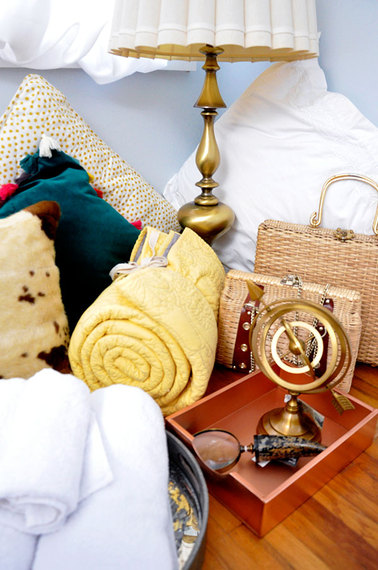 Decor supplies!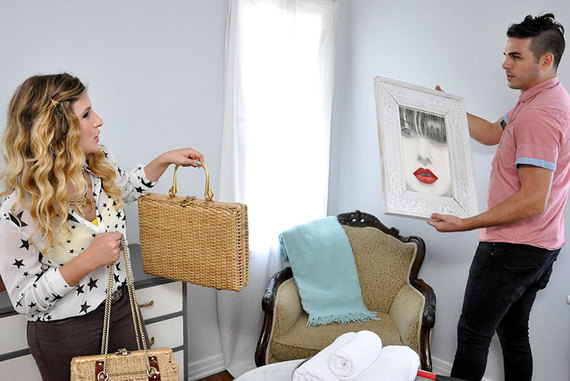 That painting I did in high school using watercolors, the chair is from the thrift store (which I want to reupholster soon) and the straw bags are from the flea market. A tray of rolled white towels is a fun touch of spa luxury for your guests.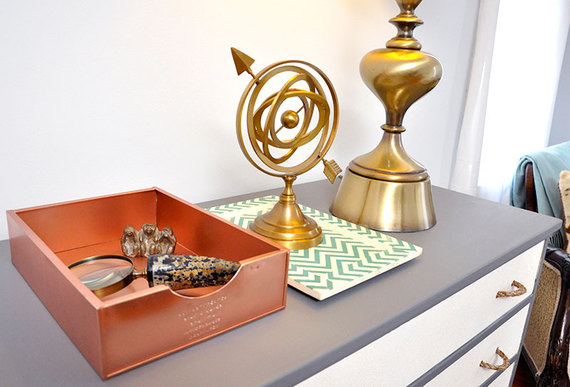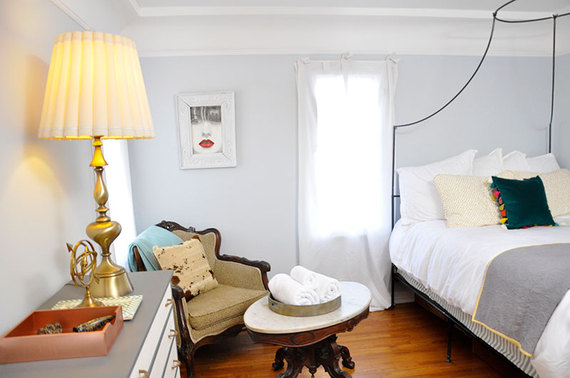 I kept the bedding white with accent pillows and throw blankets to bring in color and texture.
What do you think? Will our guests like it? How about those rolled towels!?