I like to look at other people's floor plans. I like to see how they live. Are they big-kitchen people? Or are they satisfied with a microwave and a couple square feet of counter space to heat and serve the take-out?
Have they splurged most of the upstairs square footage on an over-the-top master bedroom with TV and breakfast kitchen and left the kids with one ten-by-ten-foot space each for bed, desk and play space?
I like to see where architects are putting the laundry. It used to be the basement, with a laundry chute, maybe. Now you see washers and dryers in the upstairs hall or even in the master bedroom. I wonder about those trendy great rooms. Do people mind the kitchen odors and noises wafting into the living space? Would I?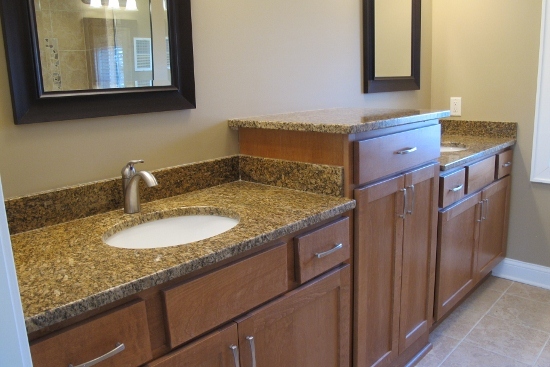 Two separate bathroom sinks. Works for me. Photo by BF Newhalll
And so, like a lot of people — and you know who you are — I brake for estate sales. I park the car and go into the house, partly to shop but mostly to check out the floor plan.
Same goes for open houses. A "for sale" sign in front of a house and I hit the brakes. How is the kitchen laid out, I want to know. Is there a view from the kitchen sink? Does the master bedroom have some privacy, but not so much that you can't hear the toddler crying down the hall in the middle of the night?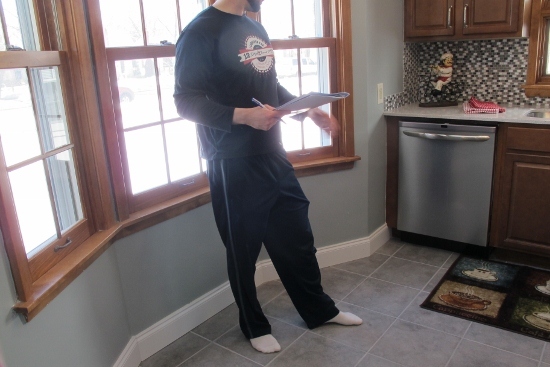 Is there space enough here for a breakfast table? Photo by BF Newhall
These days, of course, you don't have to get inside a house to study its floor plan. If it's for sale, you can go to the realtor's website and take the slide-show walk-through. After that you can go to Google Maps and stroll up and down the street.
My son and daughter-in-law are looking for a house to buy — in faraway Minneapolis. My husband and I flew in to do some house-hunting with them a few weeks ago. That was fun, but, truth be told, we could have gotten almost as good a tour of those same houses without ever leaving home — just by going online.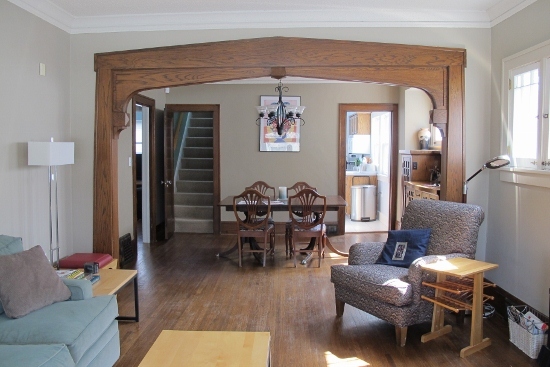 Door to kitchen in dining room, looks OK. Door to upstairs, looks funky..
My son has been sending us links to other houses, and — major confession coming up here — I spent all of last weekend (and I mean the whole weekend) touring houses online. Bathrooms, back yards, laundry rooms, garages, alleys.
No floor plans are provided on this real estate agency's site — just pictures. But that didn't stop me. I studied photo after photo and puzzled out the floor plans for myself. One house had a gorgeous deck out back. Another was a stone's throw from the Minnehaha Creek Parkway. Another had an adorable stone and stucco Tudor façade and a knotty pine entertainment room.
When Jon and I bought our 1950s-era house in California way back when, we bought it even though it had only one bathroom upstairs to serve three bedrooms.
We didn't think we could make it through the teen years sharing a bathroom with a couple of kids. But we did. We never got around to adding a second bathroom upstairs. Too expensive. Too time-consuming. Didn't happen.
I've spent hours and hours over the years trying to figure out how to squeeze another bathroom into that upstairs space of ours. And hours and hours looking at other people's houses to see how they've managed it. So far I haven't figured out a good way to get that second bathroom. But when I do, I'll draw up a floor plan.
More stories about houses at "A Generation of Preschoolers Trapped in Their Back Yards" and "Getting a New Kitchen? Here Are Five Things I Like About Mine."