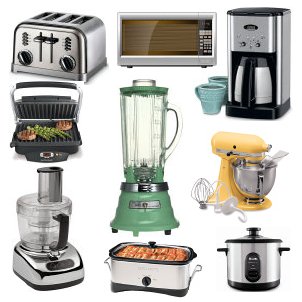 With obesity and weight related problems posing a serious problem in the modern era, cutting down on takeout in favour of home cooked meals is an excellent way to safeguard your family's health.
The rising popularity of television chefs has made many people realise that they too can eat well at home, not to mention much more affordably, though in order to do so they'll need to prepare their kitchen in readiness for their home gastronomic efforts.
Before you start prepping your kitchen in readiness for the Michelin Star worthy efforts that are about to be produced in your home kitchen, give some thought to what you and your family like to eat and what you already possess.
Many people have made the mistake of buying gadgets for this and gadgets for that and end up spending a lot of money that could have been put to better use, like replacing their old refrigerator with a more energy efficient model which could help to reduce food spoilage and cut their electricity bills.
In addition to a refrigerator, here are a few kitchen appliances to think about; moreover, bear in mind that the more experienced at cooking and food prep you become the fewer gadgets you'll find you need.
Blender and food processor
Many people find that they can get away with a blender that boasts the necessary attachments, plus food processors are often the most expensive kitchen appliances you can buy.
Whether you opt for a blender with attachments or both, focus upon higher end models with powerful motors (600 watts or more) because these boast greater longevity and produce much greater results.
Also, ensure they're large enough for your needs and that the jar is made of glass or a heavy duty material.
Oven and cooker (stovetop)
Whether you choose to buy these separately or as a single combined model, these are kitchen appliances that you simply won't be able to do without.
Gas is the ideal option because of its more favourable heat regulation properties, plus it's more energy efficient, though families living in apartments might not have the luxury of opting for gas and some people are simply more comfortable cooking with electricity.
Cooking family meals is much easier with four hobs than two, though space limitations might prevent this, and don't forget to invest in an extractor fan/hood also.
Countertop grill and toaster oven
If you barbecue outdoors regularly then you mightn't have much of a need for a countertop grill as you can do grilled focaccias, paninis and sandwiches in the countertop toaster oven.
However, a countertop grill is the better appliance for grilled sandwiches etc., plus the possibilities for healthy grilled food are seemingly limitless – grilled burgers, chicken, fish, steak, etc.
Of the many wonderful things about microwaves, easily defrosting and heating meals you've made extra portions of and frozen is easily one of the most wonderful.
Instead of making just enough Spaghetti Bolognese for one dinner, why not make enough for three or four, freeze the remaining portions, then defrost and heat them in your state-of-the-art microwave from Neff Appliances the next time you fancy spaghetti for dinner?
All you'll need to do then is cook the pasta, make a salad and you have a healthy, nutritious meal the whole family will love.
In addition to the appliances discussed above, think about adding a rice cooker to your kitchen appliance shopping list. Not only is a simple rice cooker immensely affordable, but they're actually one of the most versatile kitchen appliances it's possible to possess – you can even bake bread in them!
Author: Thomas Hamilton is writing for an unusual blend of online appliance retailer and kitchen specialist. Cameo Kitchens is one of the leading providers of quality Neff showroom products in the UK.